COVID News & Updates
News & Updates
COVID-19 vaccination for workers update
COVID-19 vaccination is no longer required for workers in certain high-risk settings:
early childhood, primary and secondary education
prisons, youth detention centres and watch houses
airports.
Decisions on mandatory vaccinations will instead be made by the owner or operator of these settings. Read More
Source: Queensland Government
Can we still go to school camp?
New resource from Outdoors Queensland
The situation in Queensland as at the start of Term 2, 2022.
In order to help schools and outdoor education camps navigate the various restrictions and expectations surrounding the management of school camps, we have created this 'Can we still go to school camp?' document to provide much needed clarity for operators and schools alike.
Public Health and Social Measures linked to vaccination status Direction (No. 4) Revoked
The Public Health and Social Measure linked to vaccination Direction was revoked* on 14 April 2022, ending the requirement to check-in and to be fully vaccinated in a range of venues and events.
Venues include pubs, clubs, cafes and restaurants; theme parks, casinos and cinemas; weddings; showgrounds; and galleries, libraries, museums and stadiums.
This is a further reflection of the easing of public health restrictions in Queensland
Vaccination and check-in requirements will continue for anyone visiting or working in vulnerable settings (hospitals, disability accommodation services and residential aged care) as well as for workers in high-risk settings including schools, childcare, prisons and airports.
See full list of Revoked & Superseded Directions
School Camps to Resume
On February 22, the Premier announced the easing of COVID-19 restrictions in Queensland from 6pm on March 4.
Michael De'Ath, Director-General, Department of Education, said in an message to schools today, that 'Schools will be allowed to conduct assemblies, excursions and school camps, while restrictions on parents and visitors to schools are also lifting.'  More information will be provided on the Back to School plan and arrangements after 4 March.
In addition, face masks will no longer be required in most settings, including schools and workplaces. While masks will still need to be worn on public transport, and in hospitals, disability care, prisons, aged care, airports and planes, hospitality staff and patrons won't be required to wear masks in cafés, pubs or restaurants.
After the peak: What's in store for Australia now that the Omicron wave has turned?
The end of 2021 was meant to herald the arrival of Australia's "hot vaxxed summer". Despite concerns over a slow start, vaccination rates were high, marathon lockdowns had ended, and international border closures — the country's first line of defence against COVID-19 — had finally started to lift after nearly two years.
While no-one predicted the pandemic would suddenly vanish, what actually happened was equally unexpected for many: after years of mostly keeping the virus under control, by the start of the second week of January Australia had surpassed 100,000 new cases a day.
The culprit was Omicron — a new, highly-transmissible variant that arrived on Australian shores in December and quickly spread throughout the country, aided by its ability to evade antibodies from past infections and vaccines.
Now, in all states other than Western Australia (which remains closed off to the rest of the country) it appears we have reached the peak of the Omicron wave.
So, what's next – read more
Source: ABC News
I have COVID-19—now what?
COVID-19 is now circulating widely in Queensland, and many of us may already know someone who has it.
It is highly likely that most of us will get COVID-19 or be directly exposed to someone who has it.
Being vaccinated will help protect you from severe disease. (There are good reasons why relying on your immune system to beat COVID-19 isn't a safe bet).
We've put together some handy, comprehensive tips on what to do if you do get COVID-19.
Source: Queensland Health
Critically Essential Worker requirements UPDATED 24/1/22
24 January 2022
To ensure critical work and supply can continue in Queensland, an employer in a critical industry can create a list of critically essential roles. A close contact who performs a critically essential role is considered a critically essential worker.
If your employer decides you are a critically essential worker, you can leave quarantine to do your job, if you:
have no COVID-19 symptoms
are vaccinated with two doses of a vaccine and, if eligible, a booster shot.
This does not apply to someone who has COVID-19 – if you have COVID-19, you need to isolate for 7 days.
What are critical industries and critically essential roles
A critical industry is:
health, including aged care, disability care and pharmacies
emergency services, including police, the Queensland State Emergency Service, maritime rescue, the Coast Guard, the Rural Fire Service, and national defence and security
power and utilities, water and waste management
stores in remote locations or communities
essential retail, including supermarket workers such as night fill staff and service stations
freight and logistics, including freight transported by air, rail, road or sea
public transport
education, including primary, secondary and kindergarten school teachers
agriculture and fisheries production
resources
major manufacturing, distribution and critical supply chains, including food and beverages, pharmaceuticals, medical supplies and petrol
telecommunications, data, broadcasting and media services.
A critically essential role:
requires a person with particular skills; and
must be performed in person at the workplace; and
must continue to be performed to:

prevent an immediate risk of death or serious injury to a person; or
prevent serious harm (social, economic or physical) in the community.
The impact of COVID-19 on Outdoor Recreation
The impact of COVID-19 on the Australian outdoor recreation industry from the perspective of practitioners
Abstract
The COVID-19 pandemic has impacted, and continues to impact, the viability of many industries worldwide. In Australia, the outdoor recreation industry, already severely affected by the summer 2019–2020 bushfires, was further affected by COVID-19 restrictions including internal border closures, stay at home orders, social distancing requirements and travel restrictions. We surveyed outdoor recreation industry representatives in Australia to assess the impact of COVID-19 on professionals in the industry, views on career choices, and perspectives on the future of the industry in a post-COVID world. We found that COVID-19 affected outdoor recreation businesses in multiple ways, with a pessimistic outlook for the industry until travel restrictions and social distancing requirements are eased and economic confidence returns. This is unlikely to happen until vaccinations are rolled out nationally and herd immunity has been achieved. Even after this, however, the industry is likely to continue to suffer through loss of qualified staff and the flow-on effects of the imposed pause in guided outdoor recreation and tourism activities. We identify an urgent need for the industry to adapt and futureproof itself against future disruptors, including the very real possibility of future novel virus epidemics or pandemics.
Management implications
the disruptive effect of COVID-19 on the industry, is not an aberration as another zoonotic coronavirus will manifest itself in the foreseeable future
living with the stochastic occurrence of coronavirus epidemics, some of which may develop into pandemics, is the new reality, and outdoor recreation providers will have to adapt to it.
the industry needs to develop activities that can be performed safely yet comply with increased hygiene and social distancing standards.
COVID-19 showed the risks of losing qualified and experienced staff and client confidence. Outdoor recreation providers need to develop strategies to minimise such losses in future pandemics
Source
Dirk H.R. Spennemann and Rachel Whitsed
Journal of Outdoor Recreation and Tourism. 
2021 Sep 20
Managing COVID-19 in workplaces
Managing COVID-19 in workplaces
Department of Employment, Small Business and Training

As COVID-19 becomes more prevalent in our community, people who have COVID-19 will visit businesses and workplaces. Guidance for managing COVID-19 in workplaces is available.
Please make sure you are familiar with the latest requirements for confirmed cases and close contacts.
If you are diagnosed with COVID-19, you must immediately isolate, for 7 days from the date you took your COVID-19 test.
If you are a close contact of a diagnosed case of COVID-19 you must:

if you have symptoms, get tested and immediately quarantine, for 7 days from the date the diagnosed case took their COVID-19 test
if you don't have symptoms, immediately quarantine, for 7 days from the date the diagnosed case took their COVID-19 test. You will need a negative day 6 test to be released from quarantine.

Close contacts are household members or household-like contacts of a diagnosed person.
A household-like contact is a person who has spent more than four hours with the diagnosed person in a house or other place of accommodation, care facility or similar.
The Isolation for Diagnosed Cases of COVID-19 and Management of Close Contacts Direction (No. 3) provides further information.
What happens when an employee tests positive?
If an employee becomes a diagnosed case, other staff from that business won't need to quarantine unless they are also a household member or household-like contact of that employee. More information on close contacts quarantine and testing requirements is available.
When do I need to get tested?
Anyone with COVID-19 symptoms needs to get tested. You can use a Rapid Antigen Test (RAT). You should only get a PCR test if you cannot get a RAT. While RATs may be difficult to access currently, we expect supplies to increase over the coming weeks.
Review the testing requirements and find a testing centre here.
When can an employee finish isolation or quarantine and return to work?
If an employee was diagnosed with COVID-19, they can return to work if:
7 days have passed since undertaking the test, and they haven't had any symptoms for at least 48 hours; or
10 days have passed since undertaking the test, if they still had symptoms on day 7.
If an employee was a close contact, they'll need a negative test on day 6 to be able to leave quarantine at the end of their 7 day quarantine period.
Critically essential workers
To ensure critical services can continue to operate in Queensland, critically essential workers who are close contacts will be able to continue to work if required.
Strict criteria will need to be met, and only a limited range of critical industries qualify.
A 'critically essential worker' is someone employed in one of the following industries, who must be in the workplace to do their job:
health
emergency services
resource sector
power/utilities
agriculture and fisheries production
freight and logistics
public transport
teachers
essential retail such as supermarkets and stores in remote locations/communities
major manufacturing, distribution, and critical supply chains (for example food and petrol).
Employers need to determine if their organisation or business falls under the list of critical industries, then identify which roles within their organisation are critical and cannot be performed from home, before notifying the Queensland Government.
Critical or essential workers who are eligible and are able to work during their close contact quarantine period will need to:
be fully vaccinated
by asymptomatic
travel to and from work in a private vehicle
while travelling and working, wear appropriate PPE
maintain hygiene behaviours such as regular hand washing
undertake regular symptom surveillance
undertake a RAT on Day 6, consistent with the requirements for all close contacts.
For more information, including what you need to do if you have a critically essential worker who needs to work during their close contact quarantine period, visit the 
Queensland Government website
.
Vaccines alone won't stop Omicron.
So which COVID measures are in place in your state?
The head of the World Health Organization (WHO) has warned the new Omicron variant is spreading at an unprecedented rate, and countries should not rely on vaccines alone to fight it.
The Omicron variant has now been reported by 77 countries and is likely present in most worldwide, but should not be dismissed as "mild", WHO Director-General Tedros Adhanom Ghebreyesus said.
"Even if Omicron does cause less severe disease, the sheer number of cases could once again overwhelm unprepared health systems," Dr Tedros said.
"I need to be very clear: vaccines alone will not get any country out of this crisis."
"It's not vaccines instead of masks. It's not vaccines instead of distancing. It's not vaccines instead of ventilation or hand hygiene. Do it all. Do it consistently. Do it well."
With COVID-19 restrictions easing across the country, here are the current rules in place depending on where you live.
Queensland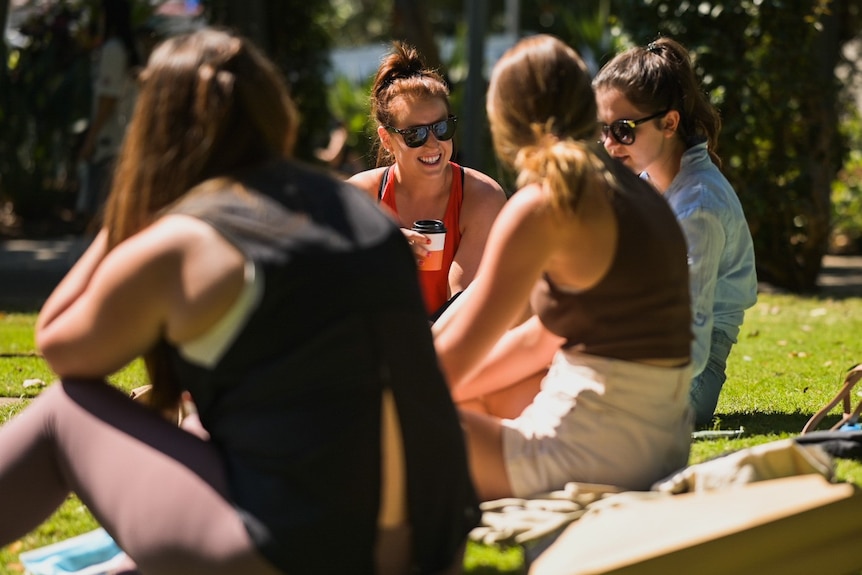 There are no limits on the number of people who can gather in public outdoor spaces across Queensland.(ABC News: Alice Pavlovic)
Masks are mandatory in Queensland in certain circumstances such as in airports and on domestic commercial flights.
Those arriving from overseas or COVID-19 hotspots who are required to quarantine must wear a mask when travelling from the airport to a quarantine hotel.
The same rule also applies to drivers transporting overseas or hotspot arrivals to quarantine locations.
Otherwise, masks are only recommended in situations where social distancing is not possible
While there are no limits on the number of people who can gather in public outdoor spaces, gathers at private residences are capped at 100 people.
Source
ABC News
Booster rollout fast-tracked a
COVID-19 booster shots will be fast-tracked in Australia as health authorities warn immunity to the Omicron variant begins to wane six months after a second vaccination.
Key points:
Booster shots previously could be received six months from vaccination
New laboratory data and evaluation of booster rollouts overseas indicates immunity to omicron declines by six months after last dose
The Omicron variant does not appear to cause more serious illness, from early evidence
The federal government has announced people will now be able to receive a Moderna or a Pfizer booster shot five months after their second vaccination, rather than six.
Last week, the nation's vaccine advisory body, ATAGI, said there was no evidence to support fast-tracking the booster rollout.
However, in the week since then, new laboratory data and an evaluation of booster rollouts overseas has indicated immunity against Omicron begins to decline earlier that first thought.
Source
ABC News
'I just feel anxious all the time'
Huge mental toll of COVID on young people revealed
Lockdowns and restrictions have made young people feel isolated and worried about their education .
Young Australians living through COVID lockdowns last year struggled deeply with their mental health and believe extra help is needed in schools to support student wellbeing, a new report says.  Read More
Check In QLD App
Under the current Restrictions on Businesses, Activities and Undertakings Direction (No. 21), it is mandatory for a range of businesses, venues and other organisations to collect customer information through the Check In Qld app. (From Friday 9 July, 2021 until further notice)
This applies to:
shopping centres and retail stores supplying goods and services to the public, such as supermarkets, pharmacies, bank branches, hardware stores, petrol stations and newsagents
venues that attract large crowds – such as stadiums, convention centres, theme parks, concert venues and cinemas
beauty and personal care services – such as hairdressing, beauty therapy and nail services
indoor events – such as cultural festival and expos
outdoor events with dancing – such as music or dance festivals
leisure and recreation facilities – such as gyms, health clubs, indoor sports facilities and indoor pools
short-term residential facilities – such as hotels, boarding houses and short-term holiday rentals
outdoor recreation – such as caravan parks, camping areas, zoos and aquariums
galleries, museums, libraries and community centres (for example recreation halls)
public-facing government services – such as customer service counters providing licensing and registration services for members of the public
indoor weddings, funerals and places of worship
higher education institutions – such as universities, TAFEs and registered training organisations
adult entertainment venues.
The Check In Qld app is a fast and convenient way for customers and staff to provide their details to support fast contact tracing. Businesses need to complete the registration form online and will receive a set up guide including the unique QR code for the venue. There are a range of frequently asked questions for businesses. For direct support, you can contact 134 COVID (13 42 68).
How to help stop the spread of vaccine myths
How do you know what COVID-19 information to believe?
With the current excitement and interest surrounding the new COVID-19 vaccine, there is a lot of information out there. It can be overwhelming and it also makes it easy to hear or read information that may not be accurate.
Understandably, people have many questions and opinions about the vaccines and their development, and often these are shared through social media, videos, and articles. However not everything that is being shared is accurate. There are a lot of false or misleading claims already circulating about the COVID-19 vaccines.
This sort of information isn't just wrong, it can be dangerous.
Not everyone on the Internet is qualified to speak on every field. Would you feel confident going into heart surgery with someone who didn't have a medical degree? Or driving on a bridge that hadn't been built by an engineer?
So how do you know what COVID-19 information to believe? How do you know what is accurate and reliable? Read More
How to talk to friends and family feeling unsure about COVID-19 vaccines
Research shows that Australia's COVID-19 vaccines are, overall, safe and effective.
But it's normal for people to have questions about any new vaccine.
Here's how to approach these conversations with empathy — and tackle misconceptions along the way.  Read On …
Source
ABC News
The Swiss Cheese Model of Pandemic Defense
It's not edible, but it can save lives.
Lately, in the ongoing conversation about how to defeat the coronavirus, experts have made reference to the "Swiss cheese model" of pandemic defense.
The metaphor is easy enough to grasp: Multiple layers of protection, imagined as cheese slices, block the spread of the new coronavirus, SARS-CoV-2, the virus that causes Covid-19. No one layer is perfect; each has holes, and when the holes align, the risk of infection increases. But several layers combined — social distancing, plus masks, plus hand-washing, plus testing and tracing, plus ventilation, plus government messaging — significantly reduce the overall risk. Vaccination will add one more protective layer. READ MORE
Health Advice
To prevent the spread of COVID-19:
Stay home if you are sick
If you have any COVID-19 symptoms, no matter how mild, get tested
Stay 1.5 metres away from other people—think two big steps
Wash your hands with soap and water, or hand sanitiser
Leave a location if it is crowded.
If you have any concerns about your health, contact your doctor or contact 13 HEALTH (13 43 25 84).
If you have any COVID-19 symptoms, no matter how mild, Get TESTED  (Testing and Fever Clinics)
Keeping Queensland COVID-Safe
Disclaimer
The information on this page has been taken from credible sources and is shared with the best of intentions. While we have have done our best to provide the most up to date information, we cannot take responsibility for any person or organisation suffering as a result of using the information shared on this page. It is the responsibility of all organisations to do their research, to comply with all relevant legislation and to be aware of current government advice.