Photography
A collection of useful tips and tricks to help you improve the photos you shoot and films you make!
The following links and resources were collated and available to help entrants in the Visioning the Outdoors Film and Photo Competition.
With the theme "Live Life Outdoors", entries in the competition shared the unique experiences and adventures of the entrants, and captured the essence of a life lived outdoors. Most of the images used throughout the Outdoors Queensland website were previously entries in the competition.
We are very grateful to the many photographers that have entered the Competition over the years and have allowed us to use their fabulous images to enhance this website. To see some of the many ways the images have been used to support the outdoors and outdoor recreation, visit the Gallery page, check out the Posters, the Desktop Backgrounds and the Image Credits section.
Many other wonderful and inspiring images have been shared on Instagram #visioningtheoutdoors.
To watch the film entries go to QORF TV, our YouTube channel and search on 'Visioning the Outdoors'
Photography
It's Better Outdoors Photography Tips (Chris Bray)
It's Better Outdoors
Rule Of Thirds: Avoid putting your subject in the middle – mentally divide your scene into thirds (both horizontally and vertically) and position key parts of your photo on these division lines. It is best to place your horizon on one of the two horizontal lines, and to have any foreground point of interest (or your subject) off to one side, in line with one of the vertical lines.
Framing: Try including something like part of a tree right off to either side of your landscape photos to form an edge or 'frame' – it can add great 'depth', making the image appear more 3D and stops the viewer's eye slipping off the side.
Fill the Frame: Zoom-in or stand closer so that the interesting part of the scene fills the entire photo.Don't feel you need to fit the entire subject in the shot – just concentrate on the important parts. Also, patterns and textures can make great shots all on their own.
Anything but Eye-Level: Don't take all your photos from the usual standing-up height – crouch down low and look up, climb high and point down – try weird and wonderful angles to create unique and engaging photographs, even of common scenes! Also, if shooting something small (like a child or a dog) try to get down to their eye-level, to create a more intimate shot.
Taking Portraits: Stand back and zoom in – it'll help blur-out distracting backgrounds and make your subject stand out. For even better blurry backgrounds, shoot on 'Aperture Mode' and dial your f/# as small as you can – smaller f# gives a smaller depth of field.
Watch Your Backgrounds: Perhaps the easiest way to make your photos look better is to spare a moment to check your background isn't too messy or distracting. Position yourself so that your subject is in front of a simple, plain background of a contrasting colour to your subject – without distracting colour blobs, telegraph poles protruding from people's heads, horizon lines going through their face etc.
Fill-Flash Outdoors: Don't be afraid to use your flash in daylight – it can lighten shadows under someone's hat, add a sparkle to their eyes and so on – give it a try!
Horizontal Horizons: Check your camera isn't crooked just before you take the photo! Easy to forget – but hard to fix later without losing parts of your photo.
Leading Lines: Strong lines or curves flowing into a photo help lead the viewer's eye through your scene to your subject. A fence line, a trail of footsteps, light & shadows –they draw the viewer's gaze into the photo. They aren't always there to use, but if they are, you'll get best results if you make sure any line coming into your photo comes in from the diagonal corners of your shot. Be aware however as they may also lead the viewer away from the subject, so position them so they tend to lead towards what they are supposed to be looking at.
The Right Lighting: Beautiful, soft, golden morning and evening lighting is beautiful for almost all photography; soft, side-lighting for portraits; shade light rather than harsh sunlight; avoid dappled light like under a tree.
But sometimes – break the rules! Be creative – sometimes the best shots obey none of these rules!
Chris Bray is an award winning Australian Geographic photographer and runs 1 day photography courses around Australia, and photo safaris all around the world, including Alaska, Iceland, Greenland, Galapagos, Amazon, Tasmania, Kangaroo island, Kenya, Christmas Island and more. Check out www.chrisbrayphotography.com for details!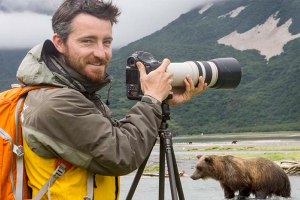 How to take the perfect sunset photo
We've all been there — you're sitting outside watching a phenomenal sunset and you decide to whip out your phone to take a shot.
Sometimes it works out perfectly, but often it doesn't do the scene justice.
There is an art to capturing a sunset well on camera, and Pamela Jennings has mastered that art.
Source
ABC News
Shoot like Simon Carter: Eight Tips for Improving your Climbing Photography
Eight Tips for Improving your Climbing Photography
Climbing and photography take time and effort to master and maintain. The best climbing photographers are passionate about climbing and don't forget why they love to photograph it. Being inspired will go a long way toward making you an outstanding photographer, but you also need to know why you are taking photos in the first place. What is it you want to achieve, and why? If you were to shoot for 10 years, what would your "body of work" look like? Would your photos be unique? Answering these questions will help you find your vision, which is the fundamental step toward improving your photography.
Source
Simon Carter
Rock and Ice
10 Useful Tips to Encourage Children into Photography
10 Useful Tips to Encourage Children into Photography

Taking pictures is beautiful, and children love playing with cameras. It's up to us to turn this desire into a hobby that can last for decades. Here are 10 useful tips to encourage children to take pictures and improve their technique:
Buy them a camera. Yes, it sounds obvious and stupid, but really it is the first step. Children need their own camera so they can carry it with them, drop it, forget it, use it, etc. If the camera belongs to them, they will feel the ownership of its results. And, nowadays, it's not expensive. All they need is a cheap, low megapixel camera.
Appreciate the pictures. This also sounds obvious, but it's also important to keep in mind, as sometimes we don't have much time to share with them. Children need to feel that their work is useful, so they need to see it and share it. Since they don't have a Flickr or PictureSocial account, the only feedback they can get is yours—make sure you give it to them.
Encourage them to use and carry the camera. Okay, they have the camera. Wouldn't it be good to make sure they use it? Remind them to bring it along when you go out, and once outside encourage them to use it.
Share their point of view. Children are born untaught; this is good from one side, as they are not corrupted, But they alsoneed to know a little about composition and framing. In order to explain to them how to see as a photographer, you need to share their point of view. Get down on your knees and watch the world as they do. From there you will help them assemble meaningful compositions.
Work with still objects. Capturing movement is difficult. The first step is to create a good composition. My suggestion is to start photographing objects or places—it's easier since they don't try to escape from the frame.
Play with colors. Children love colors, so use them to teach them about exposure. Try to picture colorful things in order to make it easier to understand contrast and illumination. It's easier to find differences in a color scale than in a black and white one.
Play with lines. Many children enjoy drawings and lines, so use natural lines to learn about composition. Suggest that they take pictures of things and places with a lot of lines; it's easier for them to visualize the composition.
Take them through the city. Cities have colors and lights. Walking through regular spots and taking pictures of your routine walks is a very good way to train the photographic eye.
Print their best photos. As photographers, we love to have our work exposed. Children want the same. Make sure you print their best photos and place them in a nice frame somewhere visible at home.
Encourage them to keep working. The best way to succeed is to practice. Help them to make photography a habit. If they take pictures regularly, they will improve for sure.And a bonus for the truly good ones…
Let them use your "good" camera. From time to time, make them feel big and important. Let them use your camera and play a little bit with the controls so they can control and improve lighting and exposure.
I hope this list helps you and your children to enjoy photography as much as I do. Thanks for reading!
Author: John Adams
More Tips and Ideas
More Tips and Ideas
Try these:
and you can also go to Dianne McLay's Easy Photo Tips – she'll even answer your specific questions too!
or you can follow some of the photography tips from Australian Photography and surprise your family and friends with the quality of your photos!
Do you have any photography tips you'd like to share?
Email industry@qorf.org with all the details