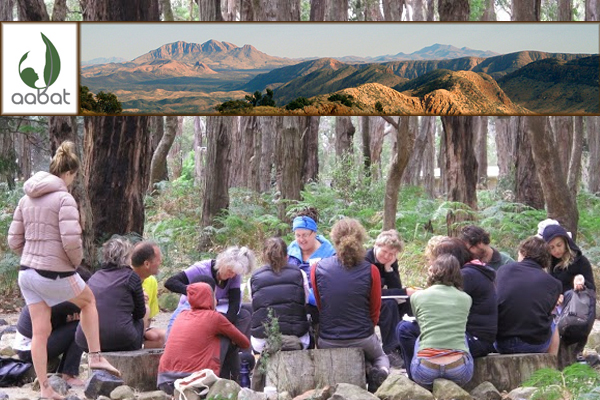 Healthy Country Healthy People.
Nature & Health: Research, Practice and Policy Symposium 2020
Posted on 24.01.2020
The purpose of the "Nature & Health Symposium 2020" is to showcase nature-based health interventions, and identify the benefits of bringing humans together with nature for targeted health benefits. The Symposium will bring together cross-disciplinary practitioners, researchers and policy makers to explore evidence-informed nature-based interventions as an emerging form of Outdoor Healthcare. An anticipated outcome is the establishment of a national body representing evidence-informed nature-based health modalities.
We are keen to include representatives from as many nature-based health modalities as possible, and work together to maximise the impact of this event. You are invited to present cutting-edge research and practice, and represent your health modality at discussions to be held at the event.
Browse for presenter options at this link: https://forum-2020.aabat.org.au/nhrps-call-to-present/
Symposium Program
Day one will present evidence on traditional and contemporary nature-based approaches known to build human health and wellbeing. A series of invited guest speakers will draw links between human health, the health of natural ecosystems and the importance of Indigenous approaches, within a framework of 'nature for health'. 
Topics will likely include: Traditional practices that sustain people in country; Contemporary place-based knowledges and practices; Holistic and multidimensional approaches; Global and local perspectives; Nature-based health interventions as a timely health solution; Necessary cultural innovations in the Australian context.
Day two will present examples of evidence-informed nature-based health interventions found to benefit humans across biological, psychological, socio-cultural and environmental domains of wellbeing. Morning break-out sessions will showcase the work of leading researchers and practitioners. An afternoon facilitated panel will explore the merits of establishing a multi-modal national representative body to advocate for Outdoor Healthcare to Government. 
Topics will likely include: A role for nature-based health interventions across the spectrum of need; Restoring nature through therapeutic work on country; The personal and social benefits of repairing ecosystems; Bush Adventure Therapy and other nature-based health interventions informed by First nations approaches; Showcasing of evidence-informed nature-based interventions such as Equine Therapy, Horticultural Therapy, Forest bathing, Green prescriptions, etc.; The emergence of 'Outdoor healthcare' as a cost-effective solution in prevention, early intervention, treatment and continuing care; Exploration of the merits of a national body to lobby government for policies that reflect 'Nature for health'. 
This Symposium is the first of its kind to be hosted by AABAT, set to precede AABAT's annual National Forum to be held in Dover just south of Hobart on 1-3 May 2020. Our "Nature & Health Symposium" partners are working with AABAT to recruit representatives from the breadth of nature-based health interventions currently operating within Australia.